75% of people don't go beyond Google's first result page. So, is your business even visible to your customers?

In today's time, we go to Google to find answers about literally everything. For example, if you want to buy a certain watch, you'll simply type in the search bar, hit enter and get results. The first page of Google is the place where people usually get what they need before they navigate away to another website. So here's the question, if you are selling watches, wouldn't you want to be in the top search results? However, with millions of websites competing with yours, how will you ensure that Google must pick up your site? That's where Search Engine Optimization comes into play!
Let's dig deeper to explore the wonders of SEO organic services!
What is Search Engine Optimization (SEO)?
SEO is defined as the process of obtaining organic traffic from search engines like Google and Bing. Every search engine has its algorithms, for example, Google has "Google Crawlers". Whenever a user searches for anything on Google, these crawlers scan billions of web pages to extract the most relevant answers for that particular query. How do these crawlers work? How can you get your website to rank on the first page of Google? Well, for that you'll have to understand the technical processes going behind every research. That is what Search Engine Optimization is all about. It's the process of making your content capable enough to push back competitors and tell Google crawler how you are the best candidate to rank on the first page. Don't stress, you don't need to have such in-depth knowledge of Google algorithms to stay on top. You can simply employ professional SEO services and outsource this hectic work to them. They'll devise customized optimization strategies for your business to drive organic traffic and leads.
What is SEO-optimized content?
SEO is the process of enriching your content with the queries your target audience may have. It may be in the form of answering a question, helping your audience solve a problem, or simply a business website selling something. If your content has relevant keywords, genuine information, useful links, and user intent, it will be called SEO- optimized content.
SEO is categorized into three major types.
On-page SEO
Off-page SEO
Technical SEO
Let's explore them briefly!
On-page SEO is also known as Onsite SEO. This category includes the optimization of content on the pages of your website. For example, you are a company selling tiles, there are different types of tiles you might be offering. Your website must have multiple pages showcasing them all and explaining them in detail. So, all those pages should have relevant content and images of that particular tile, and they should directly match the customer's query. Hence, onsite SEO is the process of optimizing the content on your web pages to make it visible to potential customers. For that, your content must have relevant keywords, relevant information, alt-tag images, title and meta tags, and quality products of course!
Components of on-page SEO
Headlines and headers
Optimized images
Title tags and meta descriptions
Relevant content with appropriate keywords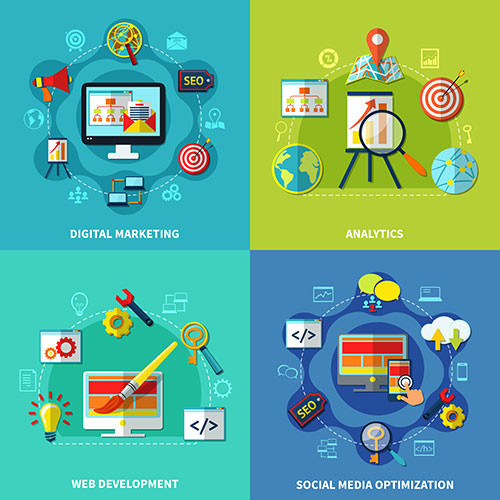 Almost 73.25% of business websites don't even have an H1 tag, meaning they are less likely to be recognized by search engines. Thus, optimizing your content can increase your chances to be in the top slots of Google ranking.
Off-page or offsite SEO generally means the optimization of content on other web pages, blogs, or simply anywhere else than your site. Offsite SEO plays a significant role in increasing the ranking of your website in Search engines by boosting online visibility. The important factors to consider while posting content on other sites include relevance, authority and credibility of the selected platform, and popularity as well. Internal links to your website play a key role in promoting your brand, product, or service while posting content on other blogs.
Categories of off-page SEO
Guest blogging 

brand promotion 

Social media marketing
Components of off-page SEO
An effective keyword strategy 

High-quality backlinks 

Domain Authority
As the name implies, technical SEO means using effective techniques and strategies that facilitates web crawlers to crawl and index your site. It's all about taking essential parameters to improve your website's visibility in search engines.
Components of Technical SEO
Mobile-friendliness 

Schema Markup 

Sound site-wide UX and UI 

Fast website navigation speed 

Credible and secure site
So, these were the most frequently known types of Search Engine Optimization (SEO). Now that you know what SEO is and how it works, it's time to move towards the need of SEO for the growth of a business.
Why does your business need SEO organic services?
Let us share some of the most interesting SEO Stats of 2022 first:
A dedicated blog increases traffic for brands by 55% compared to companies without one.
75% of users never go past the first page of results from Google.
The closure rate for leads obtained through SEO is 15%.
The average click-through rate for the top page on Google's search results is 32%.
Reference: https://www.demandsage.com/digital-marketing-statistics/
Well, it's pretty evident from the above-mentioned stats that SEO can be the key player in the success of an online business. However, the list doesn't stop here, there is much more to explore yet!
SEO drives organic traffic
Organic search is an essential component of any businesses' website performance. It drives traffic and ultimately gets users to take action i.e. buy something or book a service. As far as search engines are considered, Google is the most visited website worldwide. It occupies a massive chunk of its search market than competitors like Bing, DuckDuckGo, Yahoo, Yandex, Baidu, etc. Having strong visibility on all of these search engines will always be in your brand's favor as it will bring your relevant traffic and qualified leads.
SEO doesn't provide the same straightforward ROI as sponsored search, but with the appropriate analytics and right tracking, you can quantify practically anything. Connecting the dots on the back-end is the main challenge because without it the relationship between all activities cannot be fully understood. However, with SEO tools you can conveniently analyze how particular actions are supposed to impact the performance of your website.
Have you been searching for "how much do SEO services cost"? Or looking for low-cost SEO services for your small business?
In case you are worried about opting for SEO just because it might be a burden on your pocket, it will not be so!
In fact, SEO is comparatively economical in the grand scheme of things and it pays off generously too. Once all your pages are optimized and you are done with the link building, you will have a steady stream of organic traffic without paying any extra costs.
SEO is a long-time investment and a fruitful digital marketing tactic for any business. So, without any second thoughts, look for the best SEO services in Pakistan from organizations such as BCDS, and get started in no time. Companies like Basecamp Data Solution can provide you with dependable local services at highly reasonable rates.
So, don't hesitate to employ the SEO assistance of BCDS and get customized Search Engine Optimization solutions for your business!
Feel free to contact us at our:
The best SEO agency in Pakistan is looking forward to serving you!